NO FUN When Your RV Air Conditioner Fails On You!
This summer season, your favorite Mobile RV Tech Service, Travel Tech RV is offering a Sizzling Summer Special.  Call us today to book your A/C Tune Up Special and make sure your unit is in tip-top shape to keep you cool all summer long!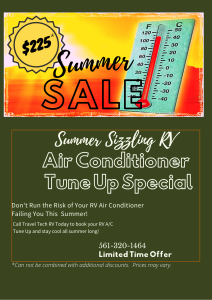 Book today at (833) 434-9787
(833) I-FIX-RVS
For a limited time, Travel Tech Mobile RV Repair and Service is offering RVers* an RV / AC Tune Up Special.
When you take advantage of Travel Tech Mobile RV's Air Conditioning Tune Up Offer your protecting your investment and saving money!  It's a WIN WIN!
Call Travel Tech Mobile RV Repair today to schedule your service (833) 434-9787
(833) I-FIX-RVS
*Additional trip charges may be assessed for calls outside of our service area.